Kalama Hines, EastIdahoNews.com
Small Town Spotlight / Published at 8:53 am, April 26, 2022
SAMARIA — Growing up in the Malad Valley, Luke Waldron watched on numerous occasions as things he felt carried great historical and cultural value were demolished, destroyed and otherwise disposed of.
"I just kept watching over the years, more and more of these log homes just being torn down," Waldron told EastIdahoNews.com. "As I young boy I said, 'I'm going to save some of these.'"
What began as an oath to himself has become a tribute to his home and its history.
Waldron oversees the Malad Valley Heritage Square, a nonprofit owned by the Samaria Community Foundation, where he keeps and maintains such historically significant structures as the John Jones Williams cabin, one of the first five cabins to be built in the valley. The square also boasts the childhood home of Olive Davis Osmond, mother of Donny and Marie Osmond, and a cabin where Samuel Deer "S.D." Davis was living when he was arrested for voting despite being a member of the Church of Jesus Christ of Latter-day Saints. His court case was taken all the way to the U.S. Supreme Court.
"We've got so many Samaria treasures and things that have just been hidden for years that we're excited to get out there and let people enjoy them," Waldron said.
The heritage square got its start in 2018, when the Olive Davis Osmond cabin was moved to a corner of a small piece of land donated by Waldron. That was the extent of the square for years until two more historic cabins needed a home and thus the Heritage Square began.
That year, the heritage square was officially dedicated with a prayer from Elder Neil L. Andersen, a member of the LDS Church's Quorum of Twelve Apostles and descendant of one of Samaria's founding families.
That was also the year that Waldron added the John Jones Williams cabin — buying it for $200 and moving it with the sole purpose of saving it from demolition.
At the time, Waldron was working as a teacher at Malad Middle School, where he taught history and geography. He was also operating the farm, leaving precious little time for his passion project — the heritage square.
So, despite his love for teaching, he made the decision to step away from that career and focus his time and energy on the farm and the square.
"It was hard to make the decision not to teach anymore," he said. "But between the ranch and — really, this is where my heart is, I wanted to devote more time to making this something special."
But he used the connections he had created as a middle school teacher in aiding the advancement of the square.
As Waldron explained, much of the work done on the square is thanks to numerous Eagle Scout projects — more than 20 altogether. Former students and Eagle Scouts are responsible for the walking paths, lantern posts, cabin roof and chinking, playground, landscaping, and so much more. Former students are also responsible for some of the modern artwork throughout the square.
The point, Waldron said, is to create an intersection between the rich history of the valley and the children who represent its future.
"Our mission is to preserve our culture and history for future generations," he said. "History has to be engaging, for youth today, so I try to make it fun — hands-on."
Finally at a point where he believes the work is ready to be shared on a grand scale, Waldron said that the heritage square will be hosting its first major event this weekend — April 29 and 30.
In addition to offering a tour through Malad Valley's history, the square will host the Malad Valley Renaissance Faire and Baby Animal Spring Festival.
Visitors, Waldron explained, will be treated to entertainment — music, magic and a medieval fighting performance — along with baby farm animals — with chicks, lambs, calves and a pony foal visitors will have the opportunity to name.
The event, like all others planned for the square, will be free with an ice cream shack and gift shop set up with hopes of creating maintenance revenue.
As Waldron explained, entrance to the square will be free, because it was never his intention to create what he called a "tourist trap." Through all his hard work finding, procuring and salvaging cabins, as well as a vast assortment of ages-old farming implements, it has always been the former teacher's goal to share, and teach.
"It's not about tourists, it's not about that," he said. "It's about our history, our culture. … I watched so many things leave, or be thrown in the dump, destroyed — there was no place for it."
However, while it is not necessarily made for them, Waldron is happy to have tourists come and see what a magical place Samaria is, in a space created to honor the town of fewer than 200.
In total, Waldron has saved around a dozen historic structures from demolition, though many of them remain in their original place, rather than having been moved to the square.
Following the Malad Valley Renaissance Faire and Baby Animal Spring Festival, the Malad Valley Heritage Square will begin normal visiting hours, Tuesday through Saturday, from 1 to 5 p.m. The square will then close for the season following Labor Day — Sept. 5.
All admission will be free during the normal hours, with staff available to offer tours and provide information.
The square is located at 4566 South 4400 West.
Waldron is in the process of creating a website and Facebook page for the square.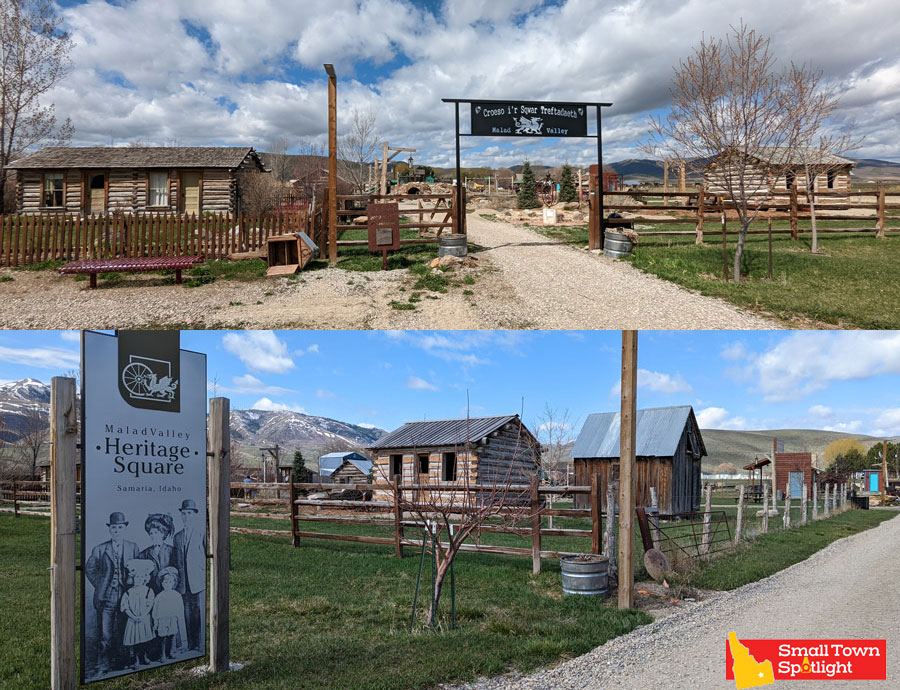 Small Town Spotlight wants to shine a light on all the good going on in small-town Idaho. If you know of someone or something in one of Idaho's many small towns that deserve to be featured on Small Town Spotlight, email Kalama@EastIdahoNews.com and include "spotlight" in the subject line.